Guice Offshore congratulates TotalEnergies Renewables USA, LLC and Duke Energy Renewables Wind, LLC, winners of the U.S. Department of Interior's wind energy auction in the Carolina Long Bay area, the second major offshore wind lease sale this year and a significant milestone towards achieving the federal goal of deploying 30 gigawatts of offshore wind energy capacity by 2030.
"Today's lease sale is further proof that there is strong industry interest and that America's clean energy transition is here," said Interior Secretary Deb Haaland said.
The Bureau of Ocean Energy Management's (BOEM) lease sale offered two lease areas covering 110,091 acres in the Carolina Long Bay area offshore North Carolina and South Carolina. If fully developed, the leases could result in about 1.3 gigawatts of offshore wind energy–enough to power about 500,000 homes.
Announced on May 11, 2022, the sale drew competitive winning bids from two companies totaling $315 million.
| Provisional Winner | Lease Area | Acres | Winning Bid |
| --- | --- | --- | --- |
| TotalEnergies Renewables USA, LLC | OCS-A 0545 | 54,937 | $160,000,000 |
| Duke Energy Renewables Wind, LLC | OCS-A 0546 | 55,154 | $155,000,000 |
TotalEnergies is a broad energy company that produces and markets fuels, natural gas and electricity. It also designs, finances, builds and operates large solar and onshore wind plants. With 100,000 employees, it is active in more than 130 countries.
Duke Energy Renewables Wind owns or operates 23 wind energy assets, generating over 3,000 megawatts of energy across the country, including Wyoming, Pennsylvania, Colorado, Texas and Oklahoma.
The Carolina Long Bay offshore wind auction included a new 20 percent credit for bidders that committed to a monetary contribution to programs or initiatives that support workforce training programs for the offshore wind industry, development of a U.S. domestic supply chain for the offshore wind energy industry, or both. This credit will result in $42 million for these critical programs or initiatives.
"This auction puts real dollars on the table to support economic growth from offshore wind energy development – including the jobs that come with it," said BOEM Director Amanda Lefton. "The new bidding credit in the Carolina Long Bay auction will result in tangible investments for workforce training and businesses in the United States, to ultimately create jobs in the U.S. across the industries needed to support achieving our offshore wind goals."
A better trained and larger domestic offshore wind workforce will provide more efficient operations with an increase of fully trained personnel. Similarly, a more robust domestic supply chain will reduce the upfront capital or certification cost for manufacturing offshore wind components, including the building of facilities, the purchasing of capital equipment, and the certifying of existing manufacturing facilities. Additional details on requirements and restrictions related to the bidding credit are located on BOEM's website.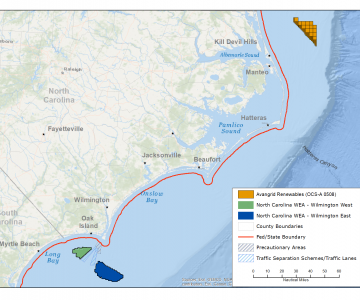 To advance the Interior Department's environmental justice goals, lessees are also required to identify Tribal Nations, underserved communities, agencies, ocean users and other interested stakeholders and to report on their communication and engagement activities with these parties. These stipulations are intended to promote offshore wind energy development in a way that coexists with other ocean uses, addresses potential impacts and benefits, and protects the ocean environment, while also facilitating our nation's energy future for generations to come.
The Carolina Long Bay offshore wind energy auction allowed companies to bid on one or both of the lease areas within the Wilmington East Wind Energy Area, as described in the Final Sale Notice (FSN). The two lease areas include similar acreage, distance to shore, and wind resource potential.
Before the leases are finalized, the Department of Justice and Federal Trade Commission will conduct an anti-competitiveness review of the auction, and the provisional winners will be required to pay any balance on the winning bids and provide financial assurance to BOEM.
More information about this historic sale, including a map of the lease areas, can be found on BOEM's website.
Currently, there are two ongoing activities offshore in North Carolina:
To view a video on the background of the Carolina Long Bay sale, click here.
The lease areas include 110,091 acres in the Carolina Long Bay area offshore North Carolina and South Carolina.  They are expected to yield at least 1.3 gigawatts of offshore wind energy, which is enough to power nearly 500,000 homes. 
To view the planning and analysis background documents, click here.
Guice Offshore Has the Jones Act-Compliant Supply, Support and Platform Vessels To Help Meet America's Offshore Wind Goals
In response to the March 28, 2022 National Renewable Energy Laboratory report outlining in part the need for six types of offshore vessels in order to fulfill offshore wind power supply chain needs to reach the United States' national offshore wind goal of 30 gigawatts (GW) by 2030, Guice Offshore ("GO") Vice President David Scheyd said:
"Our growing fleet of Jones Act-compliant, dynamically positioned offshore supply vessels, mini supply vessels and platform vessels is well positioned to help meet our nation's wind energy infrastructure installation and service goal deadlines, whether it's crew transfer, service, cable laying, subsea work like scour protection or equipment transportation."
To get a link to the report, entitled "The Demand for a Domestic Offshore Wind Energy Supply Chain," and its concurrent U.S. Department of Energy (DOE) Office of Energy Efficiency and Renewable Energy (EERE), U.S. Department of Energy report, "America's Strategy to Secure the Supply Chain for a Robust Clean Energy Transition," click here: https://lnkd.in/gXMGRmqj