It's one — no, two! — for the record books, the National Oceanic and Atmospheric Administration (NOAA) announced on September 12, 2023.
The 2024 edition of the Guinness World Records book will recognize NOAA and its industry partners with two world records: 1) wind speed recorded by an uncrewed surface vehicle; and 2) endurance inside a tropical cyclone.
Find out how NOAA and partners earned these amazing accolades, and how uncrewed systems contribute to improved hurricane forecasts.
Catching the wind
Guinness World Records recognizes NOAA and Saildrone Inc. for using a specially-designed vehicle, called a saildrone, to gather the highest wind speed ever recorded by an uncrewed surface vehicle, which occurred during Hurricane Sam — a category 4 hurricane — on September 30, 2021.
On that day, the 23-foot long Saildrone Explorer SD 1045 registered a record-setting wind speed* of 126.4 miles per hour. While collecting this and other weather data, the bright orange wind and solar-powered robot transmitted a 28-second livestream that showed what it's like to be tossed inside 50-foot high waves and 126 mph winds.
Stamina and stealth in the eye of a hurricane
On the same page of the newly published Guinness World Records book, NOAA and the Altius-600 uncrewed aircraft system, developed by Anduril, is recognized for setting a record for the longest endurance flight inside a tropical cyclone by an uncrewed aircraft.
The Altius-600 was deployed from NOAA's P-3 Hurricane Hunter aircraft into Hurricane Ian on September 28, 2022. Once the drone was deployed from the bottom of the airplane, it spread its 8-foot long wings to fly for a record 102 minutes inside the eye of category 5 Hurricane Ian.
The Altius-600 recorded wind speeds of 216 mph, communicated with NOAA's P-3 Hurricane Hunter aircraft from distances up to 135 miles and collected key hurricane data. That data was transmitted in near-real-time to scientists, forecasters and NOAA's operational centers.
A "revolution in technology"
"We are thrilled to see these two great accomplishments by NOAA and our partner scientists, engineers and pilots in this year's Guinness World Records," said Steve Thur, Ph.D., NOAA assistant administrator for Oceanic and Atmospheric Research. "These new records demonstrate how research can transform what we know about the world and how it can lead to new tools and data to protect lives and property."
During the current hurricane season, NOAA continues to build on its partnerships with Saildrone Inc. and Anduril. NOAA has increased the number of saildrones tracking hurricane data from 7 last season to 12 this season. Saildrone 1083 spent 30 minutes in the eye of Hurricane Idalia, and other saildrones entered Hurricane Franklin.
According to Guiness Book of World records:
"The highest wind speed recorded by an uncrewed surface vehicle (USV) is 109.83 knots (203.4 km/h; 126.4 mph), measured by Saildrone Explorer SD 1045 as it passed through the eyewall of the Category 4 Hurricane Sam on 30 September 2021. This USV was designed by Saildrone (USA) in partnership with the United States National Oceanic and Atmospheric Administration (NOAA).
The Saildrone Explorer is a model of 23-foot (7-m) autonomous vehicle, designed for long-endurance (up to one year) environmental monitoring missions. Each is propelled by a 15 ft (5 m) rigid sail (or "wing") and has solar panels to provide power for on-board instruments and transmitters.
SD 1045 is a custom "hurricane" variant of the standard Saildrone Explorer. It has a cropped wing and various other modifications to improve its stability in extreme conditions. NOAA operated seven of these vehicles in 2022, deploying them during hurricane season to each cover a sector of the North Atlantic and Gulf of Mexico that is typically traversed by storms.
When a significant storm enters a Saildrone's sector, controllers instruct it to navigate into its path, although the specific route taken is chosen by the autonomous drone itself."
The saildrones are operating in the Caribbean, Atlantic Ocean and the Gulf of Mexico. NOAA is also planning to deploy the Altius along with a second drone, the S0 built by Black Swift Technologies, later in the hurricane season. NOAA is assessing the use of these observations gathered for forecast improvement.
"We are at the beginning of a revolution in technology that is helping to extend NOAA's observing capabilities of satellites, buoys and sensor-equipped Hurricane Hunter aircraft to better predict severe weather and understand our environment," said NOAA Rear Admiral Nancy Hann, director of NOAA Marine and Aviation Operations and the NOAA Commissioned Officer Corps, whose office funded both efforts. "I expect we'll see more new records as we advance our forecasting tools to benefit public safety."
*Note: The record was written as 125 knots (143 mph) due to a conversion mistake at the Guinness World Records book. It has been corrected in the Guinness database and on the website and will be corrected in subsequent editions of the book.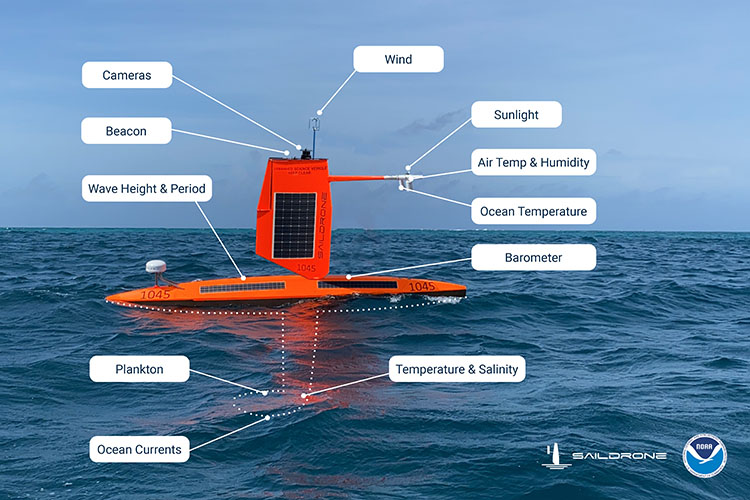 While great strides have been made in the field of hurricane prediction, one area that remains a challenge is the prediction of rapid storm intensification. Storms that intensify rapidly can cause extensive damage and loss of life, and having real-time, in-situ monitoring data is crucial for predicting these storms.
This is why NOAA's Pacific Marine Environmental Laboratory (PMEL) and Atlantic Oceanographic and Meteorological Laboratory (AOML) are partnering with Saildrone, Inc. to observe hurricanes in real time. Saildrones are uncrewed surface vehicles powered by wind and solar energy and remotely piloted. They are capable of making multiple concurrent measurements of the environment including wind speed, wave height, temperature, pressure, and salinity (see diagram below).
The saildrones are able to transmit data back in real time to agencies that will use it to predict hurricane paths and intensities. For this project, several specially constructed saildrones have been fitted with short wings best suited for handling hurricane-force conditions. A successful mission in 2021 has led to a second monitoring mission in 2022, along with additional missions hopefully in the near future.
Uncrewed aircraft and marine systems are playing a growing role in how NOAA collects data. Collectively known as uncrewed systems (UxS), they are expanding the collection and utilization of critical, high accuracy, and time-sensitive data and are enhancing the way NOAA meets its mission requirements in almost all of its mission areas.
The recent rapid expansion in availability of UxS, fueled in part by NOAA scientists and discoveries, has brought a corresponding increase in their innovative use as a force multiplier for many NOAA programs—augmenting data collection often at lower cost, increased safety, and reduced risk, especially in remote or extreme environments. Examples include hydrographic and habitat mapping, ocean exploration, marine mammal and fishery stock assessments, emergency response, including tornado damage assessments, and at-sea observations that improve forecasting of extreme events, such as hurricanes, harmful algal blooms and hypoxia.
Learn more about how NOAA is using drones to advance hurricane forecasting here.
Guice Offshore co-founders Nathan and Billy Guice were among the mentors participating in the inaugural cohort for the new Gulf Blue "Navigators" business incubator designed to assist bluetech startups that already have a pilot program in place and are ready to scale.
Bluetech industries include precision marine aquaculture, sea and space systems, ocean data and analytics, uncrewed systems, ocean-friendly plastics, smart ports and smart shipping.
"Especially given Guice Offshore's work with military, defense, energy and environmental industries, we were pleased to have been assigned to mentor Seatrac, which designs and develops uncrewed surface vehicles for persistent in-shore and open-ocean missions," Billy explained.
Similar to Saildrone, Seatrac vehicles are powered by a highly efficient electric motor fueled by a substantial solar-powered battery that allows for consistent cruise speeds over days with varying weather conditions. Seatrac helps to collect information about the ocean better, faster and more economically than traditional methods by using a broad array of compatible sensors and intuitive software controls provide to provide users with access to a wide range of environments and marine data.
With accommodations, DP station-keeping and removeable side cargo rails necessary to support various types of missions involving uncrewed surface vehicles, the Guice Offshore fleet regularly works with submersibles, Remotely Operated Vehicles (ROVs), Unmanned Underwater Vehicles (UUVs) and Autonomous Underwater Vehicles (AUVs) through its partners, Ryan Marine, Global SubDive and others.